Our C.A.R.E. Study: Caregiver Approaches, Resiliencies, and Experiences Raising Individuals with FASD, is well underway. The survey was launched last year during FASD Awareness Month. We've received over 140 responses from people all over the world since then.
Most caregivers who have participated in the study so far are adoptive parents (63%). Biological parents make up 18% of the respondents. Two thirds of participants live in Canada, but there are also some respondents from the US (21%), Australia (6%), and other countries. The large majority (95%) of respondents are women.
The team is publishing bi-annual project updates to share snapshots of data from the survey. Their second project update is focused on data related to school experiences.
Caregivers report a range of school-related challenges in people with FASD
More than two-thirds (69%) of people surveyed so far are caring for someone who is currently in school. Caregivers reported that their children and adults with FASD experience a variety of challenges, most commonly learning difficulties and distractibility. Of these challenges, learning difficulties and trouble getting along with teachers has the greatest impact on caregivers.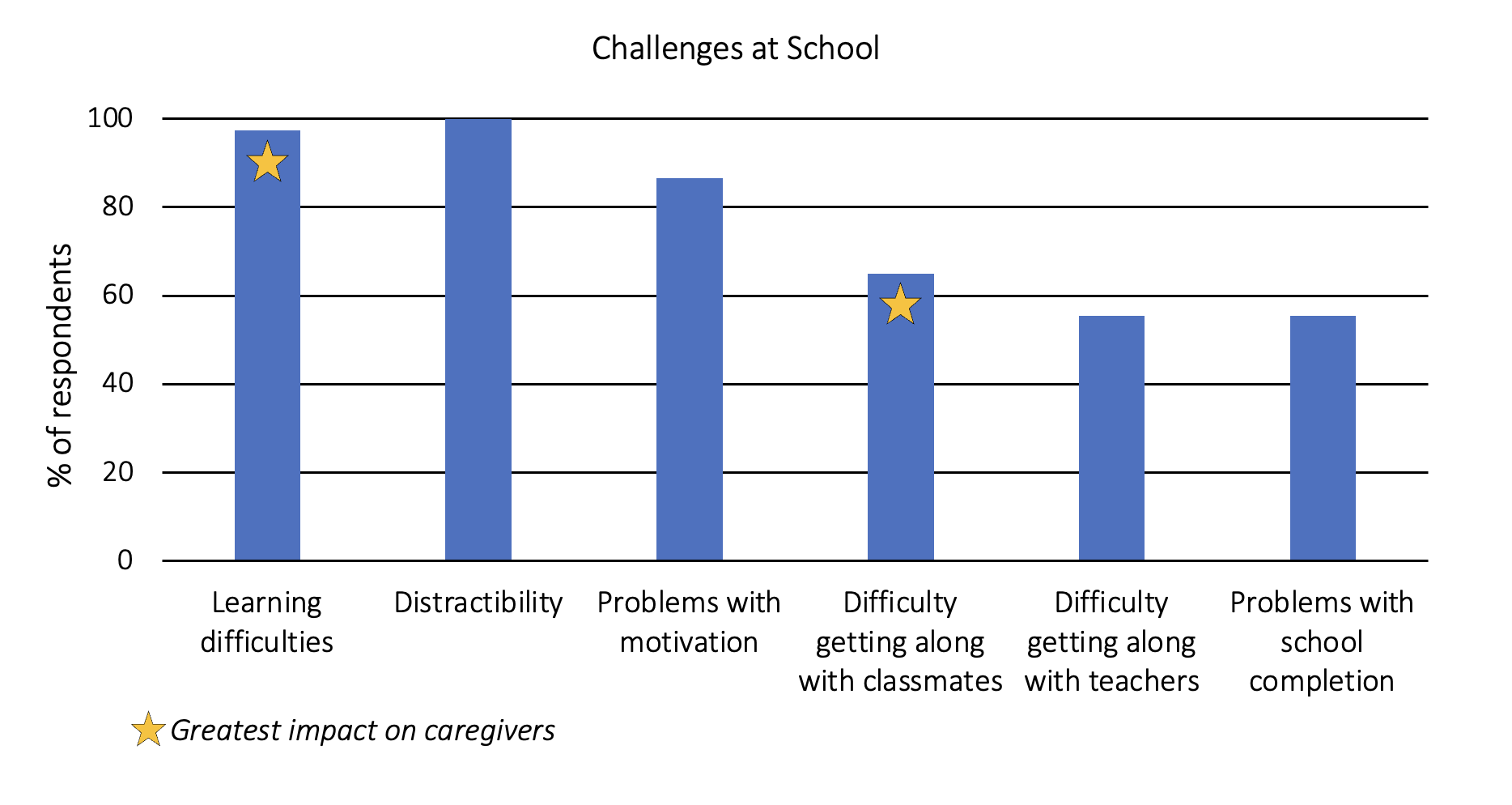 School successes should be celebrated
All students have strengths. It is important to identify and build on these strengths and abilities rather than focus solely on challenges for students with FASD. In this study, caregivers were also asked what their greatest school successes have been. Here are some of their responses:
"She is completing more school work and tries hard"
"WANTING to go to school"
"School going over and above to try and support and accommodate [my] child with FASD"
"Graduation!"
Caregivers identify areas for improvement in school systems
People with FASD may struggle in school when the learning environment is not set up to support them. Recognition and support for FASD in the education system varies across Canada. Researchers have previously highlighted the need for teachers and other education staff to have up-to-date FASD training and the appropriate supports to encourage success in students with FASD.
In our study, caregivers identified areas where school systems may be improved to better support students with FASD and their families. On a scale of 0 (completely unsatisfied) to 5 (completely satisfied), caregivers rated their levels of satisfaction related to FASD knowledge among school professionals (average score of 1), their access to FASD-informed resources (average score of 1.5), schools' ability to accommodate their child's needs (average score of 1.7), and the school's willingness to do so (average score of 2).
An FASD-informed school is key
Emerging findings from our study underscore the importance of school-home communication and collaboration, individualized learning plans, FASD training for educators, and accessible resources for families to best support students with FASD at school.
Our FASD for School Staff Level II course is an online resource to help school professionals learn more about FASD and get the tools to support those with FASD in their classrooms. We just updated this course with the latest evidence to help you stay informed and stay up to date.
Here are some other resources to help support students with FASD in the classroom:
If you'd like to participate in the C.A.R.E. project, please fill out this survey or pass it along to your networks! You can read the full project update here.
---
Become a member of CanFASD to learn more and stay up to date with FASD research in Canada!