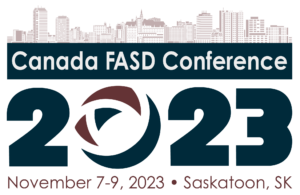 Canada FASD Conference
About
The first ever Canada FASD Conference is happening in November 2023! Join us in Saskatoon, Saskatchewan for three days of presentations and events to learn how we can transform evidence into action in the field of Fetal Alcohol Spectrum Disorder (FASD).
This conference will bring together approximately 500 researchers, caregivers, individuals with FASD, policymakers, and professionals to share what they know about FASD. Canadian and international attendees are welcome!
Theme
This year's theme is Connect, Inspire, Innovate: From Evidence to Action
Sponsorship Opportunities
We are accepting conference sponsors. Please contact conference@canfasd.ca to learn more about sponsorship opportunities.
Learn More
More details are coming soon! Click on the button below to be notified about conference updates and announcements