Written by Lyn Penfold, member of the 2023 CanFASD Trainee Program
---
I am a researcher working on a project to better understand and support those with FASD in the criminal justice system. This blog describes what I've learned about FASD in the context of criminal justice, and how it corresponds with my knowledge of FASD in the education system.
I came to this post following a twenty-year period of elementary teaching in England.  My doctoral work focused on elementary teachers' enactments of mathematics policy and my postdoctoral research explored teachers' mathematics professional development.  Values such as safety and support were significant in my previous roles as a class teacher and a pre-service teacher educator.
My experiences resonate with two core learnings, the first of which relates to the vulnerability of individuals with FASD who could find themselves in situations where they are not safe.  The second learning relates to the need for early identification of FASD to facilitate support.  In what follows, I discuss the novel and interesting perspectives of professionals working in the criminal justice system and how and why my findings affected my learning journey.
Me As a Researcher
My role as a researcher comes under the University of Alberta's focus on community conversations, within the BC Law Project.  The overall aim of this project is to improve the services and supports for individuals with or at risk of having FASD and other neurodevelopmental conditions in the legal system, which will ultimately improve their trajectory and outcomes.
The project engages in collaborative and community-engaged research with legal partners and stakeholders. Our goal is to update the FASD screening tool (currently in use in BC) to make sure it meets the rapidly advancing evidence-base characterizing youth and adults with FASD. A major part of the project is supporting implementation of this tool and evaluating its impact.
I conducted 11 focus group interviews with 21 professionals, including the position of judge, psychiatric nurse, community support worker, probation officer, lawyer, crown counsel, and caregiver.  These conversations explored professionals' experiences of working with individuals who might have FASD to understand their perceptions surrounding the strengths and limitations of approaches to identify FASD and the positive and negative impacts of identification.
Vulnerability of people with FASD in the justice system
Professionals spoke of their concern that individuals with FASD are vulnerable in this system, especially if they are held in custody awaiting a further court appearance and/or receive a prison sentence that leads to the loss of their housing.  Individuals may have lost their family support and find themselves with nowhere to go.  I heard of instances where living on the street led to harm; individuals with FASD were taken advantage of by people who they perceived were friends. Without a safe person to speak to, individuals received what professionals referred to as dysfunctional and negative support.
I have learnt that some individuals with FASD became invisible in terms of being eligible for housing services.  One criterion for housing is the level of IQ, which seems moot as FASD is not indicative of IQ.  In addition, not all individuals who are eligible know about housing and support services, or they may not know how to engage with these services.
Effective supports could improve justice outcomes
Professionals lamented how the structured environment of a correctional centre can be perceived as supportive for some individuals who have FASD.  However, the support is temporary as individuals may not engage with programs prior to their release and transition to the community.  There was a sense of unfairness regarding individuals who fell into a cycle of breaches and recidivism and were therefore considered a high risk to public safety.  Because of this concern, they were often not eligible for bail or they received long prison sentences – possibly within a higher security facility – along with a reduced or no chance of parole.
Many professionals spoke of the need for supportive measures in the justice system to support those with FASD. For example, people could slow down their talking speed, use appropriate language, and engage in follow up actions. Further support could be provided by arranging for someone to contact individuals to remind them of, or escort them to, their upcoming court appearances.  A repeated message that I heard was that identification of FASD before the age of 18 is crucial.  I learnt of the benefits of diverting youth away from the custodial system through better support and services (such as family members, mental health practitioners).  Family support was perceived to be very important. It is often in place while individuals are young and could be facilitated (and sustained) while individuals are in the education system.
Me as an Educator
Key components for me as an educator include the need to keep students safe, to facilitate access to the curriculum, and teaching students to make good choices, while recognizing and learning from the consequences of poor choices.  Every day in class provided a fresh start.  Students were surrounded by a process of positive reinforcement, which provided opportunities for them to learn in a stable environment.
Being safe was a fundamental aspect of school, especially for young students who lack the experience to regulate risk.  With this in mind, I was frustrated to learn of the difficulties experienced by individuals who were not able to establish or maintain a stable and safe environment.  The thought of losing a student on a field trip or having an accident within a class setting was a constant worry during my time as a teacher.  It is concerning to me that an individual with FASD could become unhoused or find themselves in situations that are impossible for them to manage.
I have learnt that individuals with FASD could experience long term negative reinforcement of their condition that they might not understand, which is why they are in the criminal justice system in the first place.  Professionals were frustrated about the vicious cycle of individuals breaching their conditions and receiving increased penalties, which could worsen if individuals are not housed.  I empathize with professionals who spoke of wanting to support individuals with FASD yet they were limited by processes in which they perceived adjustments as not possible.  This message resonates with me as I am aware that teachers are able to recognize and address behavioural and cognitive difficulties in their young students.  They can communicate with colleagues to ensure that students receive the necessary adjustments.  However, without a formal diagnosis and the subsequent funding that accompanies such a diagnosis, there are limits in terms of the support provided in the classroom and to the family.
I learnt about FASD through the diverse experiences and perspectives of the professionals with whom I engaged.  I used new vocabulary such as bail and corrections centre and researched terms such as PSR (pre-sentence report).  None of the individuals with whom I spoke have FASD, thus I drew on secondary sources, albeit expert within the criminal justice system.  Alongside these conversations, I engaged in the CanFASD training program and completed a mix of level one and level two online courses.  I look forward to consolidating my learning as the project moves forward and find novel solutions to help support people with FASD who are engaged in the criminal justice system.
---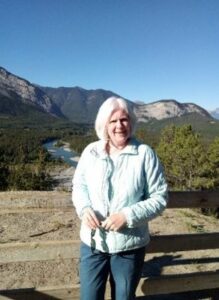 Lyn Penfold is a postdoctoral research fellow working at the University of Alberta on the BC Law Project, funded by the BC Law Foundation. Her doctoral work and previous employment focussed on elementary teachers and mathematics teaching in England. Moving to Canada was a dream of Lyn's as she has visited many times on holiday and is currently in her third year of living in Edmonton, Alberta.