When our son was twelve, he exploded with a vengeance. Without warning, amidst a crowded outdoor concession stand, he power-kicked a soccer ball directly into his sister's head. So I loaded him into a van for a road trip to explore, "why the anger?" Every few seconds he said something chilling, then contradicted it in the next sentence. I remained silent except to state, "I'm sorry" or "are you hungry?".
Hours passed and his fixation on whatever had happened still occupied his mind. Eventually, hunger got the best of him, and he asked if we could get something to eat. Somewhere between ordering and paying for the food, he stated, "Why are you so nice? I want to be nice. What's wrong with me?"
Two years later our family finally understood the mystery behind our son's disruptive behaviours by a surprising Fetal Alcohol Spectrum Disorders (FASD) diagnosis. Part of the mystery for my wife, Kim, and I was that we were naive to this condition and its associated traits. We had adopted Sam's sister, Mathea, from the same birth mom as Sam. However, Mathea did not display the same challenges.
We were aware Sam was not hitting all the benchmarks for childhood development, but we associated these with common trauma traits associated with adoption. We thought these would balance out in time. His disorder was also masked by his higher IQ, athleticism and soccer skills, his charm, and the creativity that flows so naturally for him. It took a total of fourteen years, a catalog of stories like the one above, and an assortment of misdiagnoses before we finally got a correct diagnosis of FASD.
Life has a way of presenting "a fork in the road" through circumstances. For us, Sam's condition was a choice to either lean in to learn appropriate interventions or stay the course without changing our parenting style. For us, we choose a path that became an intense year of research. This resulted in a paradigm shift to interrupt his behaviours through a brain-based lens which has made all the difference for Sam and our family.
As a filmmaker, there was another fork in the road to consider. Should I undertake a film production addressing FASD or spend my energy on less weighty topics? After a year or so of trying to juggle a few other films, I finally set the other projects aside to focus on addressing FASD. My documentary film project is called Embraced. I cannot say it has been an easy road but after several years, we've seen some success.
Become Part of this Journey
COVID-19 has changed some of our plans. Currently, we're collecting stories from around the world via Zoom. We are seeking stories that address various aspects of FASD, including family relationships, classroom strategies, and criminal justice involvement, as well as the neuroscience and medical perspective. If you would like to contribute to our film, we welcome your participation. I see this project as one that is by, with, and for the FASD community.
With awareness and understanding so sorely lacking for FASD globally, the vision of this film is to produce high-end and compelling  "re-enactments" (based on stories collected) using professional actors and, if possible, celebrities. Once the re-enactments are produced, the team will travel throughout North America to capture traditional interviews from families and professionals to balance the story arc. The hope is that this film will help draw the attention we all seek to our cause.
We are still in the fundraising stages to see this dream unfold. I still wake each morning and go to bed with excitement – maybe even call it a determined conviction – to take another step on this journey. It seems so many in our communities are unaware of the potential health risks that prenatal alcohol exposure can have on our children, like our family was just a few years ago. It is my hope a film like Embraced can someday soon deliver the awareness FASD deserves and make a difference for our kiddos.
---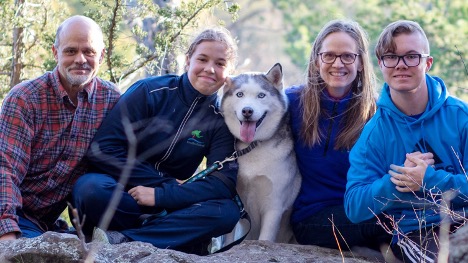 The Sheagrens are based in Minneapolis, Minnesota. They have an open adoption with both of their children who are from the same birth mother.
Joel is a veteran director, producer, and director of photography, who consistently has achieved award-winning visual stories across the globe, including a CLIO as public service announcement for anti-human trafficking titled,
Shadowhands
. He has served the advertising industry worldwide as the
"
go-to" for his creative visuals, resourcefulness, and as a problem solver. His recent film,
CRACKED ICE
, ran on Hulu and continues to run on oversea
s networks. He is fundraising for and Co-Producer of Embraced.