Since 2016 we've run an art competition to showcase the creativity of Canadians with FASD. Each year the winner is featured on our holiday card, but their art doesn't have to be holiday-themed. Our applicants are inspired by anything from holiday traditions to sunsets, and everything in between.
This year we received unique submissions from artists of all ages, all over the country. It was a very close competition with some really amazing art. Here are our winners.
Third Place
In third place was Keanna Johnson, a 15-year-old photographer with FASD.
"Having FASD is hard sometimes because my brain works differently, but photography and art is one of the things that my brain can do without having to stress over things and strain my brain too much."
"This is a photo of a dandelion in the sunset. I love sunsets. I think they are so beautiful, and to me, a sunrise and sunset means the start and end of a new day. I have depression, so it was hard for me to find reasons to stay here. But I got help. And the sunsets symbolize that I made it through another day, and I can make it through all of them."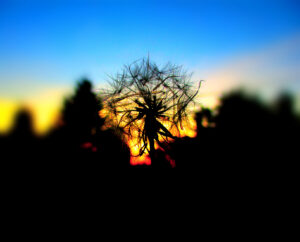 Second Place
In second place was Caroline Joanisse for her piece, Spirit Island.
"I am an artist, and through painting I can express my firm beliefs in how much the disabled stereotype must be broken. I see myself as somebody who is strong, dedicated, hard-working, compassionate and caring. I am an artist with a disability… I want to show the world that just because you have a disability, there shouldn't be limits to what you can do. Hopefully my art gives a visual perspective of some of the difficulties of having disabilities, like trips to hospitals, medications, and how much of a role the family plays. I like being heard as an equal member of society despite my own situation. All of us feel the validation of art—that all art is created equal."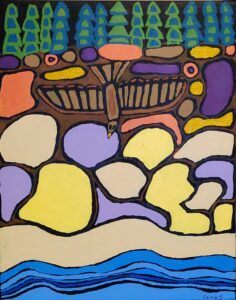 First Place
And this year's winner was 13-year-old Skylyn Jones from British Columbia. Her painting is of a landscape with wild shooting stars.
"With FASD it is hard to fit in sometimes but like a shooting star I have a special place in creation that is wild and beautiful."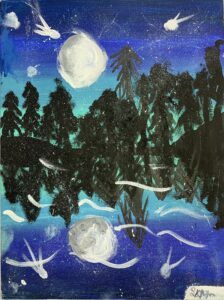 We'd like to take this opportunity to thank all of the artists across Canada who participated. As always, there were so many incredible submissions. It was very hard to choose our winners. We encourage all applicants to stay creative over this next year and apply again next holiday season!
This competition enables Canadian artists with FASD the opportunity to showcase their work at a national level. We offer one of the few awards in Canada that provide financial support to individuals with FASD specifically. This award was made possible by the donations we received from our community members and the interest of the artists themselves. If you'd like to sponsor the CanFASD Art Competition (or events like it) please send us an email at info@canfasd.ca.