Written by NOFASD Australia
---
From the time it was established in 1999, the National Organization for FASD Australia (NOFASD) became the first organisation in Australia to get involved in acknowledging International FASD Awareness Day on September 9th. Since then, the passionate NOFASD team has been working consistently to spread the word and encourage other organisations to get involved. It has been rewarding to see the consistent growth in activities and awareness in Australia since then – including the fact that we now have a whole month devoted to FASD Awareness and not just one day!
In 2013 when RJ Formanek started the "Red Shoes Rock movement to spark conversations about FASD when people commented on his red shoes, NOFASD embraced this campaign.
In 2022 NOFASD took the red theme a step further and organised for the Bell Tower in Perth to be lit up in red.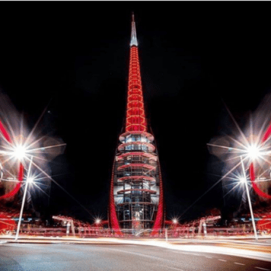 This was the first time in Australia that a monument was lit up in red to support FASD Awareness Day!
This year, NOFASD is proud to announce that well over 50 landmarks and monuments around Australia will light up in red on September 9th, or an adjacent date, to raise awareness of FASD.
Landmarks will be lit up across Australia – from Townsville in the far north-east of the continent to Perth in the far south-west. Every State and Territory on the continent will be represented in the line-up of lighting sites, with a wide variety of types of sites represented.
Bridges are well represented with the Story Bridge (Brisbane) Tasman Bridge (Hobart), Bolte Bridge (Melbourne) and Trafalgar Bridge (Perth) all set to participate, as well as official government buildings (including Parliament House in Darwin and in Brisbane, and the historic Manly Town Hall in Sydney). Regional areas are also involved with the Big Banana Fun Park in Coffs Harbour, Central Park Boardwalk in Townsville and the Monash Park Tree and Mooroopna Water Tower in Shepparton all involved.
To check the full list landmarks that will be lit up in red in Australia in 2023 to raise awareness of FASD, visit the NOFASD Australia website: https://www.nofasd.org.au/september-events/