FASD Month is underway! Our theme this year is Uniting Our Strengths: Finding Solutions Together. But what does this mean in practice?
At CanFASD, we strive to create evidence-based solutions. Our research team gathers evidence and wisdom to better understand a problem and uses these sources to create and test solutions. We can't do it alone. Our organization works with people across the country, from many different backgrounds, to generate research evidence and find ways to apply it. Some of the best projects incorporate the most voices.
In honour of FASD Month, we want to share some of the projects that are uniting strengths to come up with positive solutions. Today's feature is the Co-Creating Evidence Project.
Substance Use During Pregnancy
There are many factors that influence alcohol use in pregnancy. Misinformation, a lack of access to information, societal norms, multiple life stressors or lack of pregnancy recognition can all contribute. While services can help people reduce their substance use, there are many barriers that prevent people from accessing supports that will meet their needs, including immense stigma felt by women who use(d) substances during pregnancy.
What is the Co-Creating Evidence Project?
The Co-Creating Evidence Evaluation Project (CCE) was a national project that evaluated eight multi-service programs that serve women at high risk of having an infant who has been prenatally exposed to alcohol or other substances. Led by Nota Bene Consulting Group in partnership with Centre of Excellence for Women's Health, the project is the first-of-its-kind-in-Canada.
All eight programs (HerWay Home, Sheway, Maxxine Wright, H.E.R. Pregnancy Program, Raising Hope, Mothering Project, Breaking the Cycle, and Baby Basics) included in the evaluation are uniquely different. But they all support women in the prevention of FASD through harm reduction oriented, trauma informed, culturally safe and women centered approaches.
What did the study find?  
During the four-year (2017-2020) evaluation, the project team visited each program to interview clients, staff and community partners, and found that these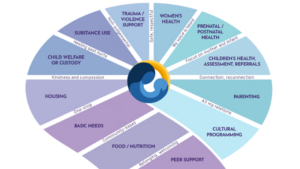 programs made a significant difference in the lives of women and their families. Clients reported the impact of programming on in important health, parenting and social justice issues such as:
Reducing or quitting problematic substance use;
Improving their mental and physical health;
Increasing access to health services;
Accessing safer, improved housing;
Increasing connection to community, peers and culture;
Fostering and maintaining mother-child connections; and,
Improving pregnancy and birth outcomes.
Fundamental to these programs are wraparound support whereby partnerships and collaboration are essential. In practice, this may look like having multiple services in one location; having staff from other organizations integrated in the service provision; or sharing a facility with other services. These multiple services may range from support on: housing, food security and income needs, to women's health, prenatal and substance use needs, to child health and development. Expanding and connecting services in these ways can help mothers and their children access more evidence-informed and non-stigmatizing services that can improve women and their children's health and wellbeing.
Visit the Centre of Excellence for Women's Health website to access resources and learn more. Be sure to stay tuned this FASD Month, to see what other incredible projects are making a difference in the field!