This is the seventh year of our CanFASD Art Competition! This event showcases the creativity of Canadians with FASD. Tomorrow is the International Day of Persons with Disabilities so we thought this was the perfect time to announce our art competition winner.
Each year in November, we ask individuals with FASD from coast to coast to submit their art. We accept paintings, drawings, sculptures, photographs, and everything in between. The winner receives a prize and their work is featured on our organization's holiday cards.
This is always a tough decision and this year was no exception. We received so many incredibly unique pieces. Without futher ado, here is our competition winner and runners up!
First Place: Ashley Jordan
The winner of our competition is Ashley Jordan, a young aspiring Indigenous artist from Alberta. Ashley is interested in both traditional and digital art.
"This submission is done with watercolor paints and a combination of chalk and oil pastels. I have a love for all animals, particularly wildlife and express my interest through art and similar activities. The bear featured in this piece is known as a cinnamon black bear, and could be counted as one of my favorite pieces." – Ashley Jordan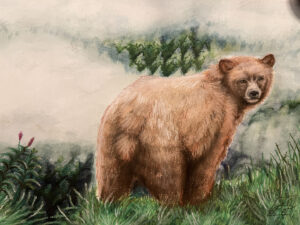 Runners Up
Natasha Theriault
Natasha is 19 years old and lives in Alberta.
"The reasons why I decided to do this art piece, it was the first idea that has been in my head for a while. I am Metis and I haven't really connect to my mom's side very much. So the woman expressive of the culture, I don't know very much of. For the mistletoe the meaning for it is vitality, fertility, romance, but that may be the definition how most people use mistletoe but I interpreted as for love for oneself and for others." – Natasha Theriault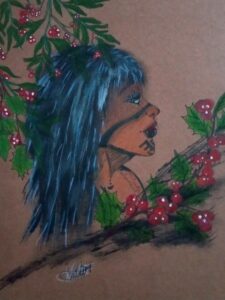 Trinity Smith
Trinity is a 10-year-old with FASD from Edmonton, Alberta.
"Trinity has an incredible imagination and has a wonderful sense of design and colour and she paints quickly and with focus for short periods of time. She always knows when she is done and then she just puts down her brush… She wakes up every day with courage and openness to what the day brings. Trinity loves to be outdoors, especially in the mountains, and is a careful observer of nature. She has always been thrilled by the power of the thunderstorms that pass through Edmonton. – Trinity's Mother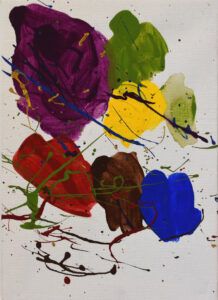 Thank you to all the artists across Canada who participated in this year's CanFASD Art Competition. Stay creative!
---
This competition enables Canadian artists with FASD the opportunity to showcase their work at a national level. We offer one of the few awards in Canada that provide financial support specifically to individuals with FASD. This award was made possible by the donations we received from our community members and the interest of the artists themselves. If you'd like to sponsor the CanFASD Art Competition (or events like it) please send us an email at info@canfasd.ca.