Preventing alcohol use during pregnancy can positively impact parents, families, children, and communities. Because of the multi-generational nature of alcohol use, one change in service provision can multiply that impact many times over.
To prevent the use of alcohol while pregnant, health and social service providers can work to support people with a range of issues, including challenges with mental health, that may be impacting their alcohol and substance use. This is particularly true of providers who routinely work with women of childbearing age and use a range of approaches to support women and children's health, such as women-centred care, social determinants of health, harm reduction, Indigenous wellness, trauma-informed, and strengths-based practice1.
This section will discuss:
Alcohol Use and Pregnancy
Globally, it is estimated that 10% of women consume alcohol in pregnancy2. Alcohol use in pregnancy can lead to miscarriage, stillbirth, premature birth, or result in FASD3. While many women stop or reduce their alcohol use at pregnancy recognition, some may face additional challenges when trying to reduce or stop their alcohol use due to the normalization of alcohol use, lack of pregnancy recognition, poverty, histories of trauma and violence, physical and mental health concerns, addiction, and child welfare involvement4. In addition, stigma can make it difficult for women to seek support5.
No alcohol is safest during pregnancy. However, for some, addressing alcohol use will also require attending to intersecting social and structural considerations. Throughout Canada, there are many approaches, programs, and supports available that provide assistance with reducing prenatal alcohol use and addressing health and social supports.
COVID-19, Mental Health and Substance Use
COVID-19 has had an immeasurable impact on people's mental health and wellbeing. An interconnected and escalating concern during COVID-19 has been intimate partner violence, mental health, and substance use. During 2020, 1 in 10 women were concerned about their safety6. Women – particularly those with children – reported significantly worse mental health7, which may have led to an increase in substance and alcohol use. When providing services, it is important to consider the intersecting experiences that may contribute to people's use of alcohol and other substances.
There are several common principles and practices to build upon to better link our responses: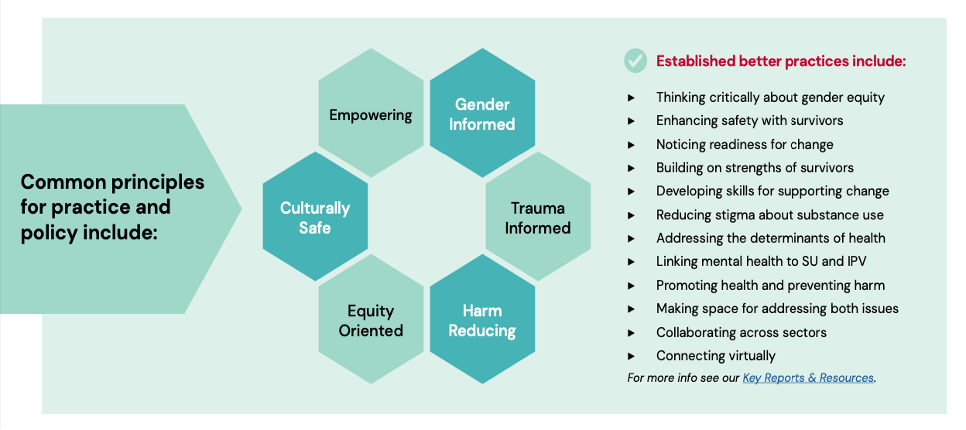 FASD Prevention
FASD prevention is incredibly complex and should use a holistic approach that addresses the numerous risk factors for drinking that are intertwined with the social determinants of health. In Canada, FASD prevention specialists have developed a supportive alcohol policy approach for individuals in a treatment setting based on the following four levels8: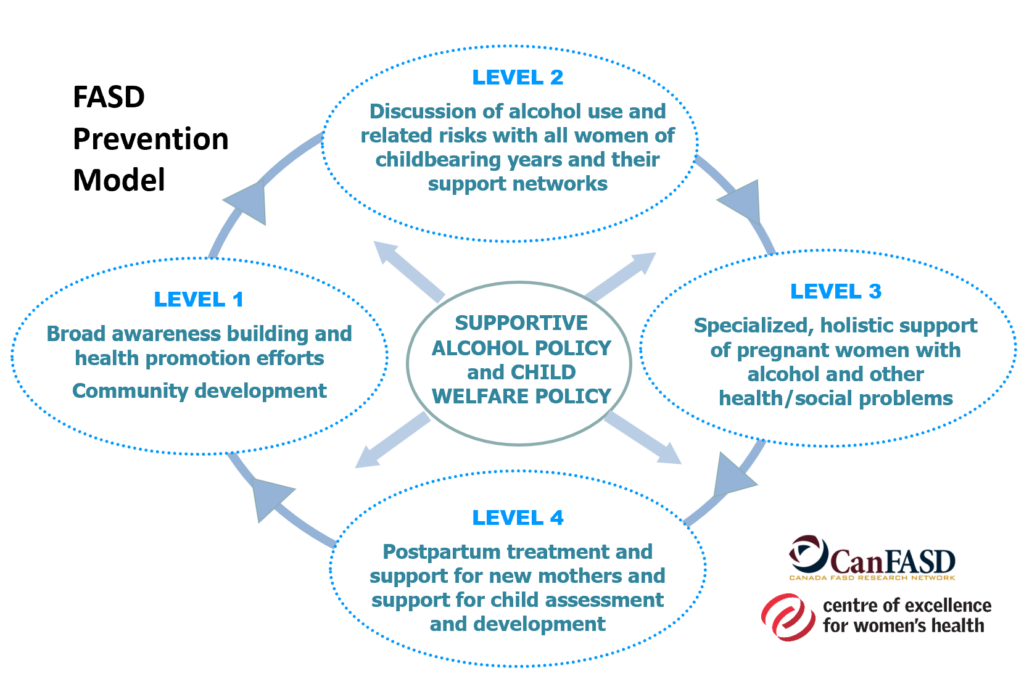 Strategies to Enact the Four Levels of FASD Prevention
Click on the boxes below to expand the content and learn more about the four levels of FASD prevention. 
Fundamental Components of FASD Prevention
Ten fundamental components have emerged as key approaches to FASD prevention from a women's health determinants perspective. These components originally emerged from a working session of the Network Action Team on FASD prevention (pNAT) held in Victoria, B.C., Canada in March 2009 and were updated in 2022 to weave in updated wisdom and resources.
Indigenous Approaches to FASD Prevention and Healthy Beginnings
Indigenous approaches to FASD prevention and healthy beginnings focus on the ideas of land, lineage, and language to foster community-based and community-driven programming. These programs often adopt a wholistic approach that integrates culture and language, coordinates basic needs, and addresses complex challenges as part of community-based strategies for women's health22.
Community-based, community-driven programs have been effective in expanding and decolonizing their thinking around what FASD prevention can look like, and how language, ceremony, protocols, traditional knowledge, and Elders can be incorporated into wellness programming. Many programs have identified common principles for enacting efforts on FASD prevention and healthy beginnings in their communities: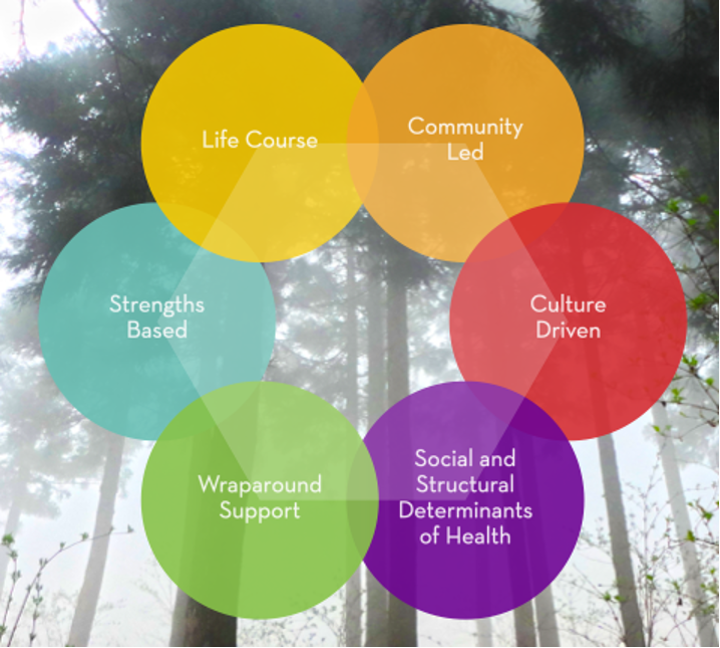 Final Thoughts
Preventing alcohol use during pregnancy can positively impact parents, families, children, and communities. However, it is important that all prevention is conducted in ways that consider impacts of stigma and are trauma-informed and strengths based.
References
1Nathoo, T., Poole, N., Wolfson, L., Schmidt, R., Hemsing, N., & Gelb, K. (2018). Doorways to conversation: Brief intervention on substance use with girls and women. Centre of Excellence for Women's Health: Vancouver, BC.
2Popova, S., Lange, S., Probst, C., Gmel, G., & Rehm, J. (2017). Estimation of national, regional, and global prevalence of alcohol use during pregnancy and fetal alcohol syndrome: a systematic review and meta-analysis. The Lancet. Global health, 5(3), e290–e299. https://doi.org/10.1016/S2214-109X(17)30021-9.
3Streissguth, A. P., Bookstein, F. L., Barr, H. M., Sampson, P. D., O'Malley, K., & Young, J. K. (2004). Risk factors for adverse life outcomes in fetal alcohol syndrome and fetal alcohol effects. Journal of Developmental and Behavioral Pediatrics, 25(4), 228–238. https://doi.org/10.1097/00004703-200408000-00002
4Hubberstey, C. & Rutman, D. (2020). HerWay Home Program for Pregnant and Parenting Women Using Substances: A Brief Social Return on Investment Analysis. The Canadian Journal of Addiction, 11(3), 6-14. doi: 10.1097/CXA.0000000000000086
5Lyall, V.*, Wolfson, L.*, Reid, N., Poole, N., Moritz, K. M., Egert, S., Browne, A. J., & Askew, D. A. (2021). "The Problem Is that We Hear a Bit of Everything…": A Qualitative Systematic Review of Factors Associated with Alcohol Use, Reduction, and Abstinence in Pregnancy. International journal of environmental research and public health, 18(7), 3445. https://doi.org/10.3390/ijerph18073445
6Statistics Canada. (2020). Canadian Perspectives Survey Series 1: Impacts of COVID-19. Ottawa, ON: Statistics Canada.
7Centre for Addiction and Mental Health. (n.d.). COVID-19 National Survey Dashboard. Accessed from:https://www.camh.ca/en/health-info/mental-health-and-covid-19/covid-19-national-survey
8Poole, N., Fetal Alcohol Spectrum Disorder (FASD) Prevention: Canadian Perspectives. 2008, PHAC: Ottawa, ON.
9Health Canada, Best Practices: Early Intervention, Outreach and Community Linkages for Women with Substance Use Problems. 2006, Health Canada: Ottawa, ON.
10Latuskie, K.A., Andrews, N. C. Z., Motz, M., Leibson, T., Austin, Z., Ito, S., & Pepler, D. J. (2019). Reasons for Substance Use Continuation and Discontinuation During Pregnancy: A Qualitative Study. Women & Birth, 32(1), e57 – e64. https://doi.org/10.1016/j.wombi.2018.04.001
11Muggli, E.; O'Leary, C.; Donath, S.; Orsini, F.; Forster, D.; Anderson, P.J.; Lewis, S.; Nagle, C.; Craig, J.M.; Elliott, E.; et al. "Did you ever drink more?" A detailed description of pregnant women's drinking patterns. BMC Public Health 2016, 16, 683.
12Wright, T.E., Terplan, M., Ondersma, S. J., Boyce, C., Yonkers, K., Chang, G., Creaga, A. A. (2016). The role of screening, brief intervention, and referral to treatment in the perinatal period. American Journal of Obstetrics & Gynecology, 215(5), 539-547. https://doi.org/10.1016/j.ajog.2016.06.038
13McBride, N. and S. Johnson, Fathers' Role in Alcohol-Exposed Pregnancies: Systematic Review of Human Studies. American Journal of Preventive Medicine, 2016. 51(2): p. 240-248. https://doi.org/10.1016/j.amepre.2016.02.009
14Bush, K., Kivlahan, D. R., McDonell, M. B., Fihn, S. D. & Bradley (1998). The AUDIT alcohol consumption questions (AUDIT-C): An effective brief screening test for problem drinking. Arch Intern Med, 158(16), 1789 – 1795. https://doi.org/10.1001/archinte.158.16.1789
15Hanson, J.D. and S. Pourier. (2015). The Oglala Sioux Tribe CHOICES Program: Modifying an Existing Alcohol-Exposed Pregnancy Intervention for Use in an American Indian Community. International Journal Of Environmental Research And Public Health, 13(1). https://doi.org/10.3390%2Fijerph13010001
16Ingersoll, K.S., et al., (2011). Preconception markers of dual risk for alcohol and smoking exposed pregnancy: Tools for primary prevention. Journal of Women's Health, 20(11), 1627-1633. https://doi.org/10.1089%2Fjwh.2010.2633
17Sobell, L.C., Sobell, M. B., Johnson, K., Heinecke, N., Agrawal, S., & Bolton, B. (2017). Preventing Alcohol-Exposed Pregnancies: A Randomized Controlled Trial of a Self-Administered Version of Project CHOICES with College Students and Nonstudents. Alcoholism, Clinical and Experimental Research, 41(6), 1182 – 1190. https://psycnet.apa.org/doi/10.1111/acer.13385
18Morrison, K., Harding, K., & Wolfson, L. (2019). Individuals with Fetal Alcohol Spectrum Disorder and Experiences of Stigma. Vancouver, BC: CanFASD Research Network.
19Pei, J., Kapasi, A., Kennedy, K.E., & Joly, V. (2019). Towards Healthy Outcomes for Individuals with Fetal Alcohol Spectrum Disorder. Canada FASD Research Network in collaboration with the University of Alberta.
20Hubberstey, C., Rutman, D., Van Bibber, M., & Poole, N. (2022). Wraparound programmes for pregnant and parenting women with substance use concerns in Canada: Partnerships are essential. Health & Social Care in the Community, 30, e2264– e2276. https://doi.org/10.1111/hsc.13664
21Grant, T. (2010). Preventing FASD: The Parent–Child Assistance Program (PCAP) Intervention with High‐Risk Mothers. In E. P. Riley, S. Clarren, J. Weinberg & E. Jonsson (Eds). Fetal Alcohol Spectrum Disorder: Management and Policy Perspectives of FASD. Wiley-Blackwell.
22Wolfson, L., Poole, N., Morton Ninomiya, M., Rutman, D., Letendre, S., Winterhoff, T., Finney, C., Carlson, E., Prouty, M., McFarlane, A., Ruttan, L., Murphy, L., Stewart, C., Lawley, L., Rowan, T. (2019) Collaborative Action on Fetal Alcohol Spectrum Disorder Prevention: Principles for Enacting the Truth and Reconciliation Commission Call to Action #33. Int J Environ Res Public Health, 16(9):1589. https://doi.org/10.3390/ijerph16091589