Fetal alcohol spectrum disorder (FASD) is the leading cause of neurodevelopmental disability in Canada, affecting 4% of the population. The prevalence of FASD is greater than Autism, Down Syndrome, and Cerebral Palsy combined.
Not solely a healthcare issue, FASD intersects with homelessness, substance use, education, criminal justice, mental health, child welfare, social services, family health, and more.
The statistics are alarming. Recent studies show 90% of people with FASD will experience mental health issues. They are over 20 times more likely to face substance use challenges. And 35% of teens with FASD report suicidal ideation, with 13% reporting at least one serious suicide attempt in the past year.
Due to its complicated nature, a systemic, coordinated, evidence-based approach to FASD prevention, diagnosis, intervention, and lifetime support is vital. We need a National FASD Strategy that ensures that all people with FASD and their families have full and equitable access to the resources they need.
Support a
National FASD Strategy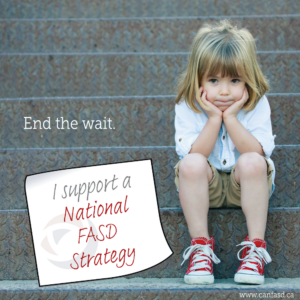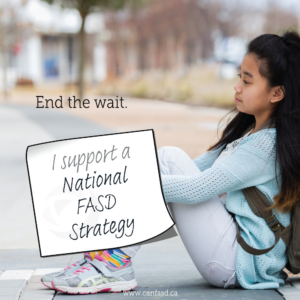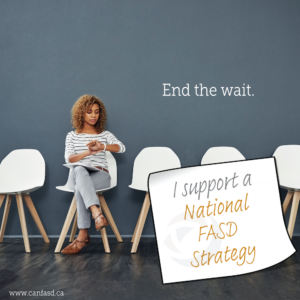 What is FASD?
FASD is a lifelong disability impacting the brain and body of people who were exposed to alcohol during fetal development. Each individual with FASD is unique and has areas of both strengths and challenges and will need supports to help them succeed in their daily lives.
Why do we need a National Strategy?
FASD is a complex disability and the impacts intersect with many different sectors. The FASD community relies heavily on both informal and formal supports, whose effectiveness and availability are dependent on the knowledge of FASD across professions and within communities. A National FASD Strategy is a plan or roadmap that helps us better understand how we can support people with FASD, their families, and pregnant and parenting couples across Canada.
People with FASD deserve to have supports that reduce the risk of mental and physical health challenges, substance use child welfare involvement, and interaction with the criminal justice system and that provide opportunities for improved health and wellbeing, stable employment, safe housing, healthy relationships, and meaningful contributions withing their communities.
Women deserve good information and support to reduce/stop alcohol use in pregnancy and receive non-stigmatizing, trauma informed and holistic supports for the alcohol and other health issues they face.
Caregivers deserve evidence-based information and practices to best support their child and deserve a skilled workforce, trained in FASD, that is prepared to effectively address their childs' unique needs. They also deserve supports and services to improve their own mental health and wellbeing in the face of the unprecedented levels of stress they experience.
Canada needs a coordinated, national, evidence-based approach to address FASD that provides federal leadership and builds on the work that has already been done at the provincial, regional, and community levels.
What would a National Strategy look like?
A National FASD Strategy should be person-centred, include first-person perspectives, be culturally appropriate for the diversity of Canada's population, and reflect the needs of Canada's northern, rural, and remote communities. It would also ensure that critically needed multilevel supports are available for pregnant women and new mothers and their children, so that prevention of FASD that is effective, respectful and addresses social determinants of health receives attention and action.
The Government of Canada has invested $1.46 million to develop a National Autism Strategy. The prevalence of FASD in Canada is 2.5 times higher than Autism Spectrum Disorder, but Canada does not yet have a National FASD Strategy. A National FASD Strategy is a statement of leadership and commitment to Canadians. It tells Canadians that their government recognizes the enormous impact of this disability and is working to address it.
Why now?
We cannot afford to wait much longer to address FASD at a national level. The annual cost per case of FASD is estimated at $27,000 and the incremental cost per case of FASD over a lifespan is estimated at $1.1 million. Many of the costs associated with FASD can be reduced with the implementation of effective leadership for social policies and intervention and support programs. These numbers don't take into account the intangible costs of FASD, such as the cost of pain, suffering, stress, and stigmatization.
The COVID-19 pandemic has only heightened the challenges that this population is facing. Canada is in desperate need for our leadership to establish a plan to support people with FASD, their families, pregnant and parenting couples, and those who assist them.
How can you help?
Community Members
Ask your Member of Parliament to support the development of a National FASD Strategy. Learn as much as you can about FASD in your profession and within your area. Talk to your friends and family members to raise awareness.
Government Representatives
Express your support for a National FASD Strategy publicly and talk about this issue amongst your colleagues and party members. Reach out to us at info@canfasd.ca to learn how FASD interacts with your field and your constituents.
Contact us at info@canfasd.ca for information about how to support a National FASD Strategy in Canada