Fetal alcohol spectrum disorder (FASD) is the leading cause of neurodevelopmental disability in Canada, affecting 4% of the population. The prevalence of FASD is greater than Autism, Down Syndrome, and cerebral palsy combined.
The economic impact of FASD across sectors in Canada, including health, justice, social services, and education, is estimated at $9.7 billion.
A National FASD Strategy will provide an economic opportunity to reduce the resource burden on taxpayers in Canada, while also addressing the government's commitments to improving the health and social status of women and vulnerable Canadians.
What is FASD?
FASD is a lifelong disability impacting the brain and body of people who were exposed to alcohol during fetal development. FASD is a complex disability and the impacts intersect with many different sectors. People with FASD are overrepresented in the child welfare and criminal justice systems. They experience disproportionately high rates of homelessness, substance use, suicide, and mental health issues, with 90% of individuals having experienced at least one mental health problem across their lifespan.  Without appropriate supports, people will FASD will struggle to achieve positive outcomes
Why do we need a National Strategy?
Canada needs a coordinated, national, evidence-based approach to address FASD that provides federal leadership and builds on the work that has already been done at the provincial, regional, and community levels. A National FASD Strategy is a statement of leadership and commitment to Canadians. It tells Canadians that their government recognizes the enormous impact of this disability and is working to address it.
A National FASD Strategy should be person-centred, include first-person perspectives, be culturally appropriate for the diversity of Canada's population, and reflect the needs of Canada's northern, rural, and remote communities.
A National FASD Strategy would also ensure that critically needed multilevel supports are available for pregnant women and new mothers and their children, so that prevention of FASD that is effective, respectful and addresses social determinants of health receives attention and action.   
Why now?
We cannot afford to wait much longer to address FASD at a national level. The annual cost per case of FASD is estimated at $27,000 and the incremental cost per case of FASD over a lifespan is estimated at $1.1 million. Many of the costs associated with FASD can be reduced with the implementation of effective leadership for social policies and intervention and support programs. These numbers don't take into account the intangible costs of FASD, such as the cost of pain, suffering, stress, and stigmatization.
Why FASD?
Individuals with FASD are struggling. They are disproportionately represented in the child welfare and criminal justice systems. They experience extreme rates of mental health challenges, with over 90% of individuals with FASD experiencing at least one mental illness across their lifespan. Their risk of suicide is 5.5 times higher than the general population.
Caregivers of individuals with FASD face unprecedented levels of stress. They rely heavily on both informal and formal supports, whose effectiveness and availability are dependent on the knowledge of FASD across professions and within communities. The COVID-19 pandemic has only heightened the challenges that this population is facing.
Women deserve good information and support to reduce/stop alcohol use in pregnancy and receive non-stigmatizing, trauma informed and holistic supports for the alcohol and other health issues they face. 
People with FASD and their families need supports in order to succeed. The Government of Canada has invested $1.46 million to develop a National Autism Strategy. The prevalence of FASD in Canada is 2.5 times higher than Autism Spectrum Disorder, but Canada does not yet have a National FASD Strategy.
It's time.
Support a National FASD Strategy.
Learn how to talk about FASD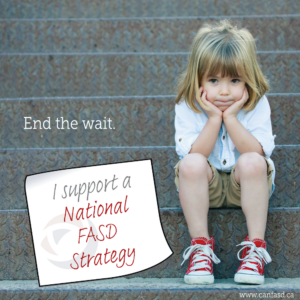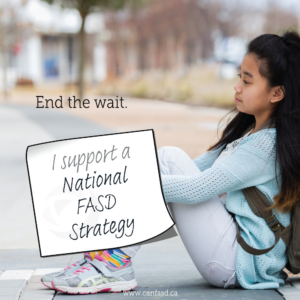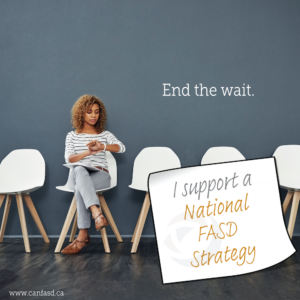 Contact us at info@canfasd.ca for information about how to support a National FASD Strategy in Canada